Dear clients,
The final raffle of our "Fulfil your dreams - 20 years of Alpari" special offer was held on the 12th of December 2018, in which the prize fund included the cash value of a Mercedes GLS (90,000 USD), BMW 5 Series (50,000 USD), and Polaris Slingshot SL (25,000 USD).
First place winner Pan Xuesen, a trader from China, gave an interview to Alpari.
Why did you choose Alpari as your Forex broker?
A few fellow traders introduced me to Alpari in 2016. At that time our company worked with other brokers. We decided to go with Alpari for a number of reasons. First off, we pay considerable attention to a secure trading environment and attractive Revenue Share conditions as part of the partnership program. With regard to capital security, our company conducted a large study, during which we learned that Alpari, founded in 1998, has been operating on the Forex market for 20 years. Also, Alpari is highly rated in third-party rankings. Previous brokers we worked with were FCA licensed, but didn't offer the Revenue Share service. This is very inconvenient for us, as after having earned money for our clients, we then have to remind them each month to transfer money to our company.
Secondly, we can't accept the fact that many brokers trade against their clients. This makes trading unfair. The ECN model compensates for a smaller spread for the IB, but our company earns money by dividing client profits. The PAMM service is an excellent option for attracting new clients, as many people have never traded Forex before and their initial investments are small. If they begin trading on their own, then the probability of them losing money increases, thus a PAMM account allows them to team up and trade with less risk.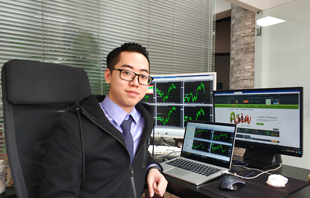 How did you feel when you found out that you won first place?
In the very beginning, my colleagues and I joked about what we'd do if we came in first place. I didn't think too much of the fact that I had a ticket, and also didn't keep up with the results of the raffle afterwards. Then after some time, a manager called me and said that I had won. I was shocked. I couldn't believe it.
How long have you been trading Forex with Alpari?
I had already been trading the stock market since high school, and in college I started trading futures. I started trading Forex back in 2016. In mid-2016 I became an IB at Alpari and opened a PAMM account. So, I've been with Alpari for almost 2.5 years now.
Would you mind sharing your strategy with us?
When our company trades Forex, we mostly use EAs, so I don't have a lot of experience trading manually. If we talk about trading using EAs, the most important thing here isn't so much strategy, but how the capital manager controls risk, as other issues may still arise. I'd like to offer a bit of advice to those using EAs, and those developing this system - potential profits will be reasonable and stable, but not huge.
What advice would you give Alpari traders?
One of Alpari's biggest advantages is its PAMM account service. Whether you're an individual trader or a corporate trader, it makes no difference. If you're confident in your trading skills, you can become a PAMM account manager. When you earn for investors, you also earn for yourself.
If you're an investor, avoid only going by the rate of return in the ratings when choosing a PAMM account or PAMM portfolio, as if the account or portfolio's profit is very high, the risks could also be high.
How do you plan to spend your winnings? Will you buy a Mercedes-Benz GLS or will you continue trading Forex?
I don't want to buy a Mercedes-Benz GLS with the money at the moment, although it doesn't sound like a bad idea. However, after a while the car will depreciate in value. I'd like to continue trading Forex with Alpari. I'm still young and I'd like to earn even more money. I hope I'll be able earn enough for another Mercedes-Benz GLS.
Could you talk a bit about some of the advantages of trading Forex with Alpari? And is there anything you'd like to tell traders?
Our PAMM accounts range from 100 to 200 in the rankings. Although our accounts are not in the top 10, we have a lot of investors. In the end, I hope more people will check out our accounts. You can find us by typing "shimai" in the PAMM ratings.
Best regards,
Alpari